Delivery in France and abroad



How much is the delivery charge?

What is the delivery time?

What's the status of my order?

What happens if I'm absent?
DELIVERY EXPENSES
Taking into account the daily evolutions in the offers of transport from our partners, this table is modifiable without notice. Therefore, it is only indicative and has no contractual value or commitment, in case of a difference with a rate proposed in a quote or an order, it is the rate of the quote or order that is authoritative.
STANDARD DELIVERY PICK-UP POINT
Metropolitan France, Corsica and Monaco
Delivery is ensured thanks to Colissimo's services at the collection point: at the post office, in Pickup & luggage lockers Pickup Station, for metropolitan France, Corsica and Monaco.


TARIFF GRID 2020 EXCL. TAX FRANCE COLISSIMO PICK-UP POINT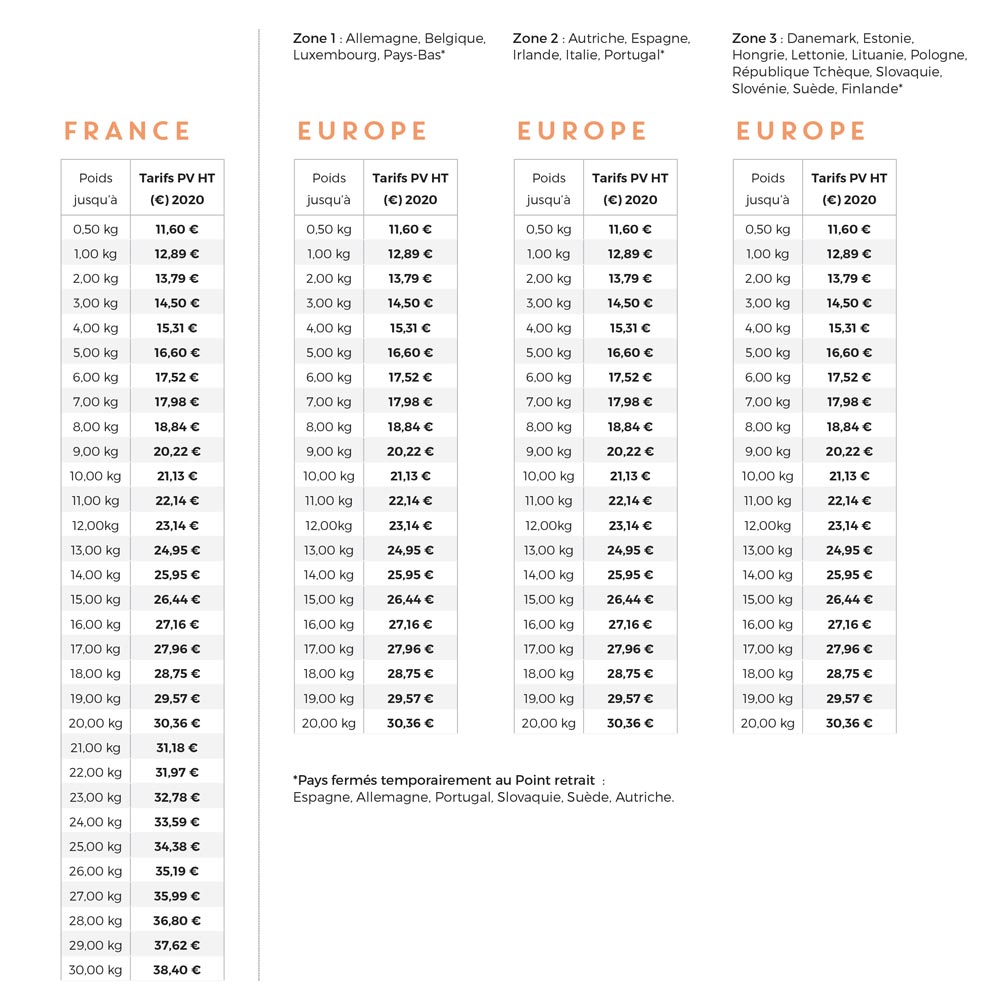 The Colissimo Colissimo Collection Point service is also available* for the following countries: Austria, Belgium, Czech Republic, Denmark, Finland, Germany, Hungary, Latvia, Lithuania, Luxembourg, Netherlands, Poland, Slovakia, Slovenia, Spain, Sweden, United Kingdom.

*Price is different for each country.
HOME DELIVERY / CHRONOPOST - DHL - UPS

TARIFF GRID 2020 EXCL. TAX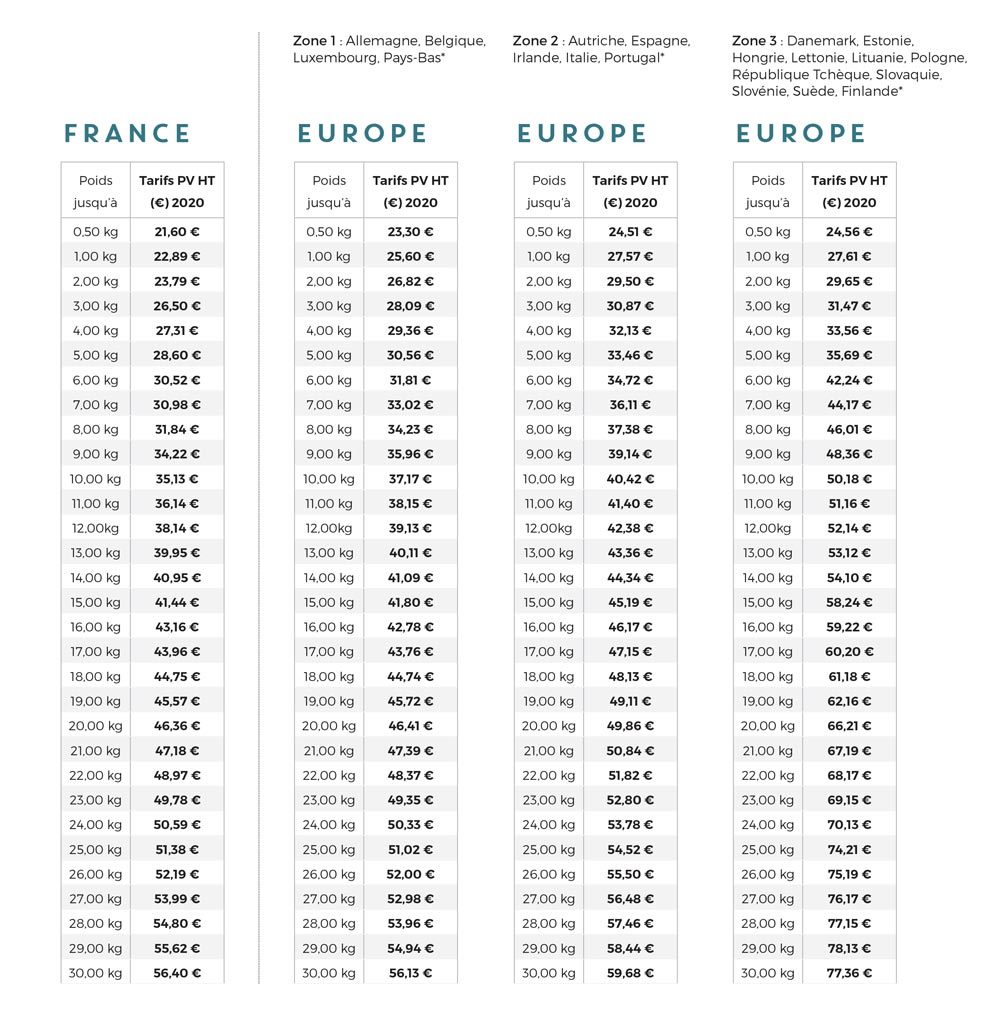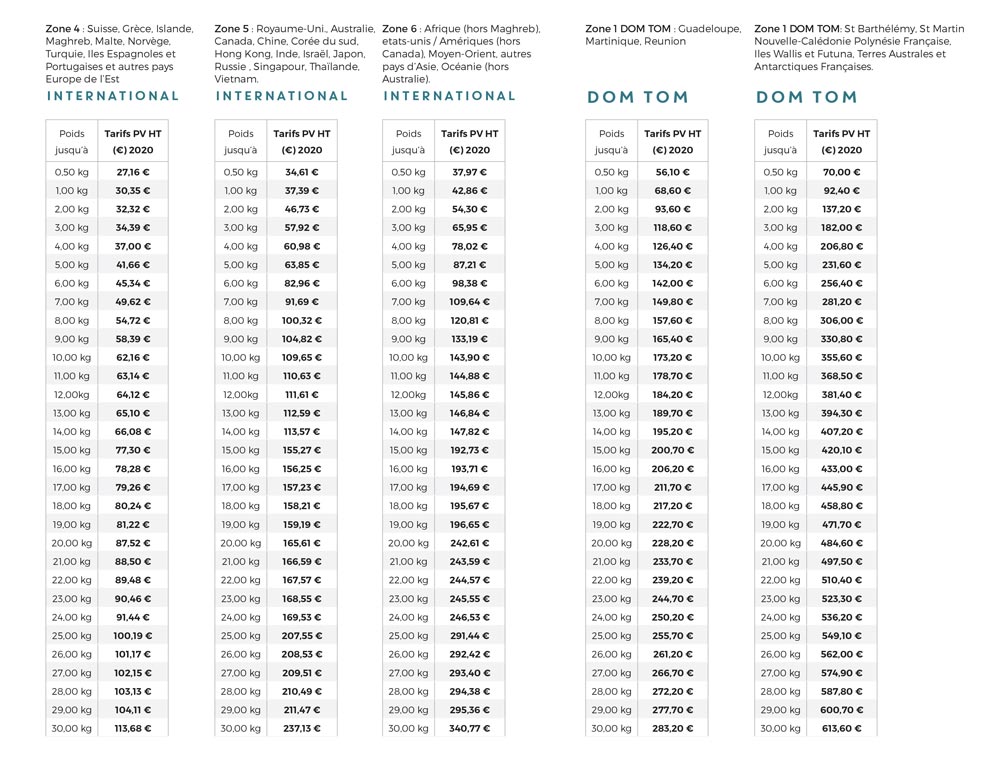 DELIVERY SCHEDULES
STANDARD DELIVERY PICK-UP POINT
Colissimo announces 48h to 72h in Metropolitan France and 3 to 8 days according to the country of destination in Europe, it is necessary to count with that the indicative times of preparation or manufacture:
10ml roll: 2 to 4 working days
Roll of 3ml / Fresco: 8 to 10 working days
Samples: 2 to 4 days for samples 


HOME DELIVERY / CHRONOPOST - DHL - UPS


In France, express transport services indicate a delay of D+1* from the day of departure from our workshop, this delay is not guaranteed.
Internationally, express transport services indicate a delay of D+2* from the day of departure from our workshop. This indicative delay varies according to the country. Please consult us by mail contact@paper-mint.fr
WHERE'S MY DELIVERY?
Check your tracking number on your customer account, otherwise contact serviceclient@paper-mint.fr. Sample orders below 12€ttc are sent without a tracking number.






YOU'RE ABSENT?
Your parcel is delivered with signature according to the conditions of Colissimo (service suspended during the health crisis).

"The postman must ring your doorbell to try to deliver you, even if you live in a building. The postman is then authorized to hand over the package to anyone who comes to him at your home. Unlike registered mail, a package with a signature does not require verification of the identity of the recipient. The signature affixed near the name, as well as its reproduction, are proof of delivery of the shipments. The parties recognize the same legal value as the traditional paper signature and the digital signature.

If no one answers, the mail carrier must leave a notice in your mailbox, either to let you know that he or she has tried to deliver a package to you and will be back the next business day, or to let you know that your package can be picked up at your local post office on a date to be specified by the mail carrier.

If you think that you were present when the postman passed by and that he should have delivered your parcel to your home, please inform the Colissimo consumer service, preferably using the contact form."